ClickUp is a Cloud-based collaboration and project management tool for Creative Teams for any business such as Small, Medium, and Large. This is the best-recommended software for Software development and Implementation Agencies for Agile and DevOps Methodologies.
All of your projects are in one place ClickUp brings your team together to plan, track, and collaborate on any project.  It is a robust, scalable project management tool that has everything an on-premise or remote team needs. It provides a simple, seamless interface and allows for collaboration between team members. With its scalable and robust nature, this tool is perfect for organizations of every size.
Visualize project statuses in a wide variety of ways with ClickUp—and support easy workload balancing and collaboration. Make it easy to manage your projects by supporting simple yet powerful features like task management, due dates, Gantt charts, and more. Get all the information you need to make informed decisions about your projects with Click Up's rich reporting capabilities. Save time and keep projects on schedule with Click Up's task automation features— ensuring that everyone stays on track and meets deadlines!
CLICKUP FEATURES:
Visualize & Plan
You can build the perfect workflow for every project. Track your entire project from start to finish with beautiful views that make project planning a breeze. Manage your resources on a List, Box, Gantt, Board, or Calendar view, or create your own workflow with any of ClickUp's 10+ customizable views.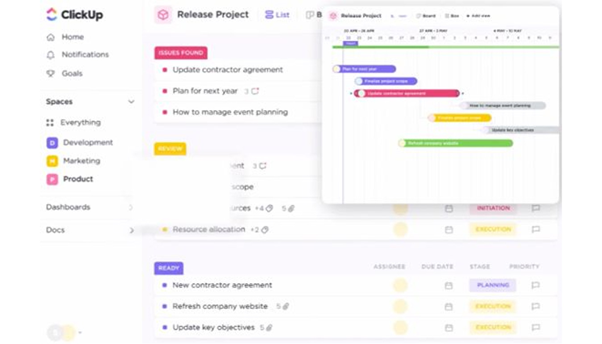 Priorities:
Organize work by importance so your team knows which tasks are urgent and which ones have a flexible timeline.
Task Dependencies
Set a clear order of operations by marking tasks as "waiting on" or "blocking" others. Link similar tasks together to easily jump between related work.

Task Templates
Save templates for common tasks with details, assignees, dates, rich editing, checklists and more. You'll never have to recreate repetitive tasks again!

Custom statuses
Customize statuses so everyone knows which stage every part of your project is in. Use pre-made templates or save your own to get started right away.
Home
See all of your work in a single place, set reminders, and add important tasks to anyone's Inbox with LineUp.
Docs & Wikis
Create docs, wikis, knowledge bases, and more. Bring them to life with rich text editing, leave comments, and collaborate with your team in real time.
Goal Tracking
Measure your project goals by tying them to specific tasks, numbers, monetary values, and more. Set milestones to signify when an important stage in the project is complete.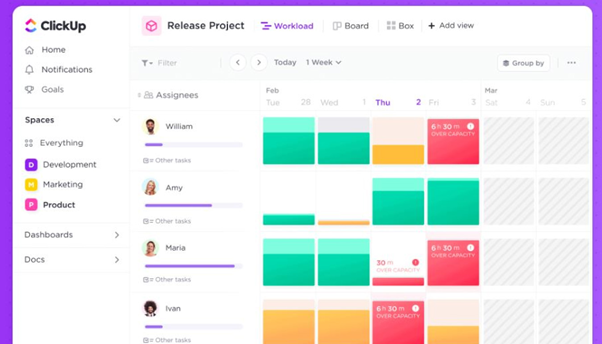 Workload
Manage your team resources with a visual of everyone's work capacity based on hours, tasks, or points.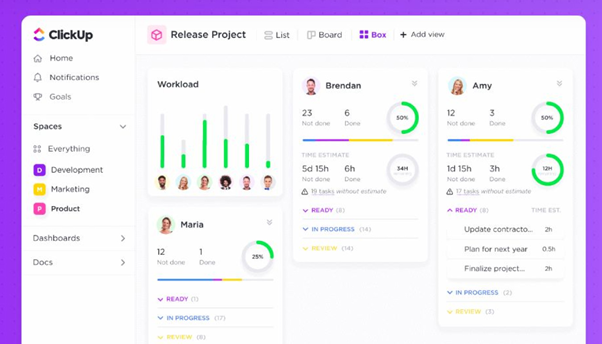 Integrations
Integrate with your favorite Project Tools and sync your team's most important apps to ClickUp in seconds. Integrate with other Collaboration and CRM tools such as Outlook, Teams, Calendy, Slack, Zoom, HubSpot, Zendesk, Salesforce, Harvest, and Clockify.
ClickUp Pros:
It is suitable for solo users. ClickUp gives teams the most powerful tools. However, unlike other project management tools, ClickUp works well also for individual users. The features it offers can be used to manage daily tasks. Its user interface is simple to grasp and use and with the integrations the team saves significant time while working with multiple applications.
Efficient dashboard view. ClickUp gives great images as well as information through its dashboards. Views that switch between views provide diverse perspectives and provide important insights. This ClickUp feature differentiates the software from its competitors.
Powerful mobile apps for iOS and Android
Customer-centric. ClickUp continuously introduces new features, enhancements, and improvements in response to what its customers require.
The layout is friendly. ClickUp makes everything simple to understand and comprehend. The layout lets teams manage multiple projects in one place.
Cost-effective. Teams and companies have to use two or more applications to manage their projects. This will quickly add up to costs. ClickUp is able to replace multiple programs that are required to manage various kinds of projects. It helps reduce costs by providing an all-in-one platform for every user and not needing to use a different task-managing tool.
Unlike other project management software, ClickUp has a feature-rich free version. The majority of free versions contain basic features and as not as robust as Clickup.
There is Pulse Feature – a cool feature for remote work and you can add freelancers to your team workspace with Custom Access Rights.
There are Time Tracking Capabilities so everyone or the team lead can track his team's time for improving the productivity of tasks and analyze the critical path of the task.
Customer-centric. ClickUp continuously introduces new features, enhancements, and improvements in response to what its customers require.
The layout is friendly. ClickUp makes everything simple to understand and comprehend. The layout lets teams manage multiple projects in one place.
ClickUp offers various views, dashboards, proofing real-time collaboration, task dependence, integrated time tracking, 24/7 support, and 2FA.
ClickUp Cons:
There are too many ClickUp features. A few users find themselves overwhelmed by the sheer number of options, particularly when they first set up. Teams say that the learning curve is steep and their members are unable to utilize all of the functions. Sometimes, users aren't able to decide which tool to use to serve a particular purpose or not.
There are too many options for customization. One of the greatest advantages of ClickUp is the option of full customization. However, it can be a disadvantage when users have to alter and select between alternatives to ensure that the program will operate optimally. Some believe that the choice between 'done' and 'not done is sufficient. The wide range of options demands users to organize their plans to implement and make use of the software in order to reap the maximum advantages.
UI requires improvements to the UI. A few users are unsure of what the spaces and empty panes are used for. In addition, the font size is too small, and the colors aren't bright enough for proper contrast.
The table view is not available in the Mobile App.
ClickUp is constantly working to fix any minor issues, improve user experience and platform ease of use, and add more tools based on your suggestions. also, Integration with a Few apps such as teams, etc is in-progress.
What is the pricing for ClickUp?
There are five pricing plans available in ClickUp.
Free Forever: Unlimited projects and users with 100MB of cloud storage space.
Unlimited ($5/month per user, billed annually): Unlimited projects and users + unlimited number of integrations + advanced reporting.
Business ($12/month per user, billed annually):  Unlimited projects and users features + two-factor authentication + Google SSO.
Business Plus ($12/month per user, billed annually):  Unlimited projects and users features + two-factor authentication + Google SSO + Team Sharing + Custom Permissions + Increased Automations & API + Priority Support.
Enterprise (Contact Sales for Quote):  Including all above + White Labeling + Advanced Permissions + Enterprise API + Unlimited Custom Rules + SSO + Live Onboarding Training + Dedicated Success Manager + Access to Managed Services.
ClickUp also offers a free trial for its unlimited, business plans and Enterprise Plans.
Important FAQs?
Do I need to be an experienced project manager to use ClickUp?
No, you don't need any prior experience with project management tools to start using ClickUp. In fact, the Interface is designed in a way that even inexperienced users can get started quickly.
What makes ClickUp stand out from other project management tools?
ClickUp is one of the most user-friendly and trend-following platforms available on the market. It offers a wide range of features and options that make it perfect for creative teams of all sizes. Additionally, its pricing model is very affordable compared to other similar software packages.
What are some common issues that users face when using ClickUp?
The biggest challenge for users of all types of projects is always finding time to keep up with new updates and features as they are released by the developers. However, with regular use, most problems tend to disappear or at least become more manageable over time.
What are some common benefits associated with using ClickUp?
Some key benefits associated with using ClickUp include: • Quick and easy project management • Comprehensive task management • Immediate feedback on progress • Integrated communication tools
Conclusion Are you looking for a project management tool that is versatile, easy to use, and reliable? Look no further than ClickUp. This software is perfect for any creative team, and its customer support is top-notch. With ClickUp, you'll be able to manage your projects efficiently and securely. Do check and Sign-up for ClickUp https://bit.ly/3A2DjTU or if you have any query feel free to comment or reach me at yousuf@infotechabout.com